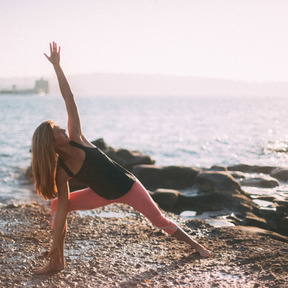 Lane Change Retreats is born from a love, a passion and an obsession for Italy, its culture and its people. The retreats are not traditional yoga retreats, rather they're an experience aimed to bring you laughter, love and the opportunity to rediscover your passion for life and an appreciation of the small things you've let go of through the pressures of day-to-day living.
Prior to becoming a Yoga Teacher, I was an Executive Assistant to CEO's in the world of advertising. High energy, high stress, high pressure and long hours. Yoga was my trusty equilibrium. It was challenging but it also balanced me – physically, mentally and emotionally.
I was learning on the mat how to manage stressful situations through breath and grace, through awareness and exploration. I was recognising habits and making choices to react or sit in stillness.
As a teacher, being able to share my experiences, knowledge & light-hearted spirit with others is a gift.I am very grateful. I offer clients a space to feel supported and free to explore their body, mind and spirit in an environment free from judgement and stress. I encourage them to look on the lighter side of themselves. Life can be so serious, it's easy to forget how to live with ease. I teach from my heart, with a smile and complete honesty.
No followed people